fallbrook vigilantes
The Fallbrook Vigilantes, featuring Anthony Cullins aka "The Fallbrook Kid," is a band of seasoned musicians that display their extreme high energy during every one of their live performances. The Fallbrook Vigilantes was formed by the Fallbrook Kid as a result of his desire to create a new brand of "Blues Rock." Their music is a combination of just the right amount of originals and old school music moved in the direction of newer techniques. They also put their own signature on cover songs that they recreate. Each time you see them you will you will see something different and fresh. 
 
The Fallbrook Vigilantes feature: 
Anthony Cullins on Lead Guitar & Vocals  
Bruce Borden on Bass Guitar & Vocals  
Dwane "Da Pocket" Hathorn on Drums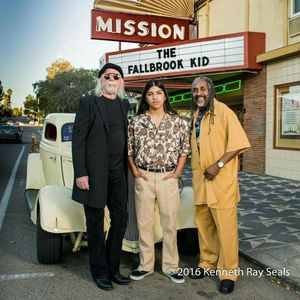 Anthony Cullins, aka "The Fallbrook Kid," is a 15 year old guitar prodigy whose guitar playing ability is years beyond his age. Anthony's musical influences include R&B, funk, the blues, and guitar greats from the 60s & 70s such as Jimi Hendrix and Eric Clapton. He has had the opportunity to play with and study under many great musicians that have been on the music scene for many years. Some of the legends he has been able to sit in with include, Bill Magee, Rock and Roll Hall of Famer Gregg Douglas (former guitar player for the Steve Miller Band, Van Morrison, and many more), Roni Lee (The Runaways & Venus and The Razorblades) , Ron Blair (Bass player for Tom Petty and The Heartbreakers), Blues Hall Of Famer Darrell Mansfield, Stevie Salas, Kevin Cooper, and more. Anthony has been featured in the San Diego Troubadour, the San Diego Reader, Boogie Magazine, Echo and Buzz, CritDicks.com, and The Rockin' Rag. He is also highlighted in the book "Band Together" by Bradley Zink. He has been compared by Boogie Magazine "as having guitar skills reminiscent of young guitarists Joe Bonamassa and Jonny Lang." He can still be seen on Boogie Magazine's "Around Town" section where they have featured Anthony several times over the last year.  All of these notable achievements before his 15th birthday! ​
Dwane Hathorn, aka Da Pocket ( Drummer), grew up in Compton California. He was raised on blues, jazz, big band, and R&B. This diverse background gives him a broad perspective when it comes to music. He has performed and collaborated with Marshall Hawkins (Miles Davis), Chubby Jackson, Harold Land, Bob Moss, Koko Taylor, Etta James, Zac Harmon, Shemekia Copeland, Ivan Nevilles, Dumpsta Phunk, and many more. Dwane started Aunt Kizzy's Boyz in 1999, which went on to represent San Diego twice (in 2006 & 2008) at the International Blues Challenge in Memphis, Tennessee. He has also been nominated 4 times for the San Diego Music Awards, winning twice with Bill Magee's Blues Band. Dwane and Aunt Kizzy's Boyz won the Temecula Film and Music festival "Top Music Artist" in 2004. 
    
Bruce Borden (Bass Player), has been on the music scene since the early 1970's, and has had the honor of being affiliated with some of the biggest names in the business. From 1971-1973 Bruce toured extensively with BB King and Cheech & Chong as the opening rock group "Zebra." From 1977-1978 he was on a USO tour of Korea, Okinawa, Indonesia, the Philippines, and Australia, playing for the troops in the rock band "Wabash." From 1991-1994 he toured with the Coasters, The Drifters, The Marvelettes, and The Shirelles opening for Linda Ronstadt. From 1995-1998 he joined the Soul Survivors (Expressway To Your Heart). In 1998 he toured with The Al Wilson Band (Show & Tell and The Snake). He also did shows with Three Dog Night's Chuck Negron. Since then Bruce has played with many bands throughout the US and Hawaii.
Follow The Fallbrook Vigilantes on Facebook and Instagram: